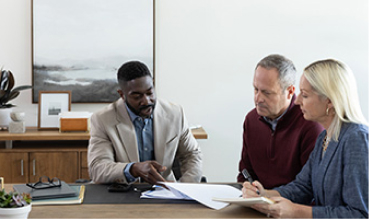 More than half of pre-retiree investors are concerned about the long-term viability of Social Security, a traditional pillar for retirement funds.
After decades of planning, participants close to retirement age are delaying their retirement plans in light of today's rising inflation, high interest rates and unstable economic environment, according to Nationwide's eighth annual Advisor Authority survey, powered by the Nationwide Retirement Institute®. A quarter (25%) of pre-retirees, defined as nonretired investors aged 55 to 65, are planning to retire later than expected, and another 15% are unsure whether they will ever retire.
In today's landscape, pre-retirees are in a unique and challenging position. Although a number of factors are contributing to their decision to delay retirement, the majority (60%) said inflation poses the greatest immediate challenge to their retirement portfolio over the next 12 months. An economic recession (46%), market volatility (36%) and taxes (23%) are also factors that pose immediate challenges to their retirement portfolio.
"With economic stressors continuing to weigh on the minds of investors, working with a plan sponsor has never been more important to achieving security in retirement," said Eric Henderson, President of Nationwide Annuity. "Because the trajectory of the markets and the economy looks uncertain in the short term, a plan sponsor can help participants who are nearing retirement age remain calm, nimble and informed when it comes to adjusting their plans."
The stability of Social Security is in question
Over half (53%) of pre-retirees are concerned about the long-term viability of Social Security, indicating fears that these benefits will no longer be available to them in retirement. More than 1 in 4 (26%) pre-retiree investors believe Social Security will run out of funds in their lifetime, with the same number (26%) believing Social Security will run out of funds after they have entered retirement.
These fears are not unwarranted; the likelihood of Social Security running out is slowly becoming a possibility. According to the 2023 Old Age, Survivors, and Disability Insurance Program's Trustees report,1 23% of scheduled benefit payments for recipients could be depleted as soon as 2033.
Despite concerns regarding the program's stability, the majority of pre-retirees who say they have strategies to protect against outliving their savings are primarily relying on Social Security (52%). Others have leaned into additional options, with 46% of those who have a strategy in place incorporating annuities into their retirement plans to guarantee income and protect against outliving their savings.
"I'm hopeful Congress will develop a plan to shore up the long-term viability of Social Security, but for now, there remains some uncertainty about what the program will look like years down the road," said Henderson. "The best thing those nearing retirement can do is to work with an advisor to choose the right time to claim benefits. This is a decision with huge implications for income over the course of retirement, which for many people, could be 25 to 30 years or longer. It's also worth having a conversation with a plan sponsor about how you may be able to leverage the money you have saved, including your 401(k) plan, to create a predictable stream of income."
Many participants nearing retirement also say they are planning to change their approach to saving for retirement by managing their investments more conservatively (30%) over the next 12 months. Nearly 1 in 5 (19%) are planning to contribute more to their 401(k) or employer-sponsored defined contribution plan each month. Just 10% are planning to manage their investments more aggressively.
Nationwide's eighth annual Advisor Authority study, powered by the Nationwide Retirement Institute®, explores critical issues confronting advisors, financial professionals and individual investors — and the innovative techniques that they need to succeed in today's complex market.
[1] "The 2022 Annual Report of the Board of Trustees of the Federal Old-Age and Survivors Insurance and Federal Disability Trust Funds," ssa.gov/oact/tr/2022/tr2022.pdf (June 2, 2022). 
About Advisor Authority: Methodology
The research was conducted online within the U.S. by The Harris Poll on behalf of Nationwide from January 4-13, 2023, among 511 advisors and financial professionals and 789 investors ages 18+ with investable assets (IA) of $10,000+. Advisors and financial professionals included 274 RIAs, 175 broker/dealers, 128 wirehouses and 55 other financial professionals. Among the investors, there were 203 Mass Affluent (IA of $100,000 to $499,999), 167 Emerging High Net Worth (IA of $500,000 to $999,999), 106 High Net Worth (IA of $1 million to $4.99 million) and 104 Ultra High Net Worth (IA of $5 million+), and 209 investors with $10,000 to less than $100,000 investable assets ("Less affluent"). Investors included a subset of 224 "pre-retirees" age 55-65 who are not retired.
About The Harris Poll
The Harris Poll is one of the longest running surveys in the U.S. tracking public opinion, motivations and social sentiment since 1963 that is now part of Harris Insights & Analytics, a global consulting and market research firm that delivers social intelligence for transformational times. We work with clients in three primary areas: building twenty-first-century corporate reputation, crafting brand strategy and performance tracking, and earning organic media through public relations research. Our mission is to provide insights and advisory to help leaders make the best decisions possible. To learn more, please visit www.theharrispoll.com.